Receipes
Weight Watchers Prawn and Smoked Salmon Pasta with Dill and Creme Fraiche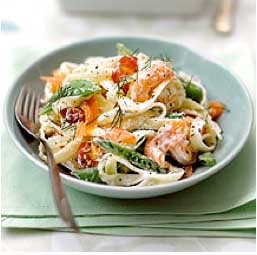 INGREDIENTS
300 g Seeds of Change Tagliatelle
150 g Sugar snap peas
125 g Cheese, Soft, Medium Fat
4 tablespoons (level) Crème Frâiche, Half Fat
100 ml Milk, Skimmed
150 g Salmon, smoked, sliced onto strips
150 g Prawns, Peeled & Cooked, thawed if frozen
12 individual Tomatoes, Cherry, halved
1 tablespoons Dill, Fresh, plus extra, to garnish
1 teaspoons Salt
1 teaspoons Black pepper
INSTRUCTIONS
Cook the tagliatelle or linguine in a large saucepan of boiling, lightly salted water for 8-10 minutes, or according to pack instructions, until tender.
Meanwhile, simmer the sugar snap peas or mangetout for 4-5 minutes until lightly cooked, then drain well.
Put the low fat soft cheese, crème fraiche and milk into a saucepan and heat gently, stirring with a whisk or wooden spoon until smooth.
Drain the pasta, then return it to the saucepan and add the sugar snaps or mangetout, salmon, prawns, cherry tomatoes, dill and sauce. Season with a little black pepper – it's unlikely that you'll need salt. Stir together over a low heat for about 2 minutes.
Share between 4 warmed bowls and serve, garnished with a little more chopped fresh dill.
---
Smoked salmon salad with crab dressing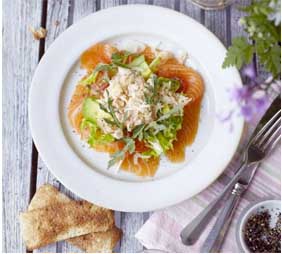 INGREDIENTS
100g tub fresh crabmeat
2 tbsp mayonnaise
good pinch cayenne pepper
½ tbsp lemon juice
1 tbsp olive oil
6 small slices smoked salmon
2 small handfuls curly endive
8 cherry tomatoes , halved
1 avocado , peeled, stoned and thickly sliced
1 small shallot , thinly sliced
few rocket leaves, to serve
toast (optional)
INSTRUCTIONS
Mix the crabmeat with the mayonnaise and cayenne pepper. Set aside. Stir the lemon juice and oil together in a large bowl with some seasoning.
Arrange the smoked salmon on 2 large plates. Add the endive, cherry tomatoes, avocado and shallot to the lemon dressing, toss well and pile onto the plates.
Top with the crabmeat mixture, scatter over rocket leaves and serve with toast, if you like.
Nutrition Per Serving
538 kcalories, protein 31g, carbohydrate 4g, fat 44 g, saturated fat 7g, fibre 4g, sugar 3g, salt 4.5 g
---
Smoked Salmon & Avocado Terrines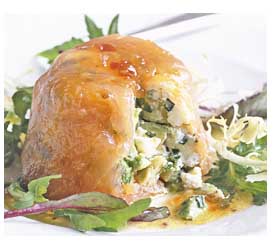 INGREDIENTS
sunflower oil , for greasing
300g and 150g pack thinly sliced smoked salmon
100g pack Chevre or other mild goat's cheese , broken into small pieces
3 tbsp snipped chives
3 large ripe avocados , peeled, stoned and finely chopped
3 tbsp lemon juice
sweet chilli sauce , for drizzling
salad leaves and vinaigrette, to serve
INSTRUCTIONS
Lightly oil 8 small ramekins. Line with cling film, then the salmon (either 1 large or 2 smaller slices), allowing plenty of overhang.
Gently mix together the cheese, chives and avocado with the lemon juice and plenty of seasoning. Spoon into the salmon-lined ramekins, press down, fold over the overlapping salmon, then cling film to seal in the mixture.
Can be made the night before, but if making on the day they should be chilled for at least 4 hrs. On the day, gently lift the terrines out of the ramekins using the cling film, then remove the film.
Place the terrines on plates with some baby salad leaves tossed in a little vinaigrette. Drizzle the terrine and plate with sweet chilli sauce. Serve on their own or with toast.

Nutrition Per Serving
330 kcalories, protein 18g, carbohydrate 16g, fat 22 g, saturated fat 5g, fibre 0g, sugar 10g, salt 3.67 g
* Gluten free
---
Rachel Allen's Smoked Salmon and Chive Fishcakes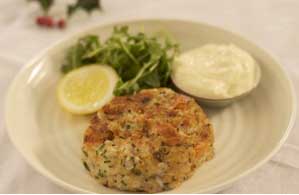 A deliciously satisfying, but healthy, quick meal from Rachel's new series, perfect for a festive starter!
INGREDIENTS
500 g floury potatoes
salt and fresh ground black pepper
225 g smoked salmon
3 tblsp olive oil
1 red onion (peeled and finely chopped)
2 tblsp finely chopped chives
1 tblsp capers (drained and chopped)
good squeeze of lemon juice
1 egg (beaten)
75 g breadcrumbs
15 g butter
INSTRUCTIONS
Preheat the oven to 220°C (425°F/Gas 7) and grease a small baking tray with olive oil.
Fill a large saucepan with water, then add the potatoes and a good pinch of salt. Bring to the boil for 10 minutes, then pour all but about 4cm (1½in) of the water out of the pan and cook the potatoes on a very low heat for another 20–30 minutes until a skewer goes in easily. Peel them while they are still hot and mash immediately, either by hand or using the paddle attachment in an electric food mixer, until they are free of lumps.
Meanwhile, as the potatoes cook, place the smoked salmon on the baking tray. If it is pre-sliced, simply put the slices one on top of the other. Drizzle the salmon with 1 tablespoon of the olive oil, then bake in the oven for 6–8 minutes. Remove from the oven and set aside.
Put the mashed potato, onion, chives, capers, lemon juice, egg and breadcrumbs into a large mixing bowl. Roughly tear the smoked salmon into smaller pieces and add to the mix. Use a spoon to stir everything together – the salmon will break up further as you mix. Season with salt and pepper.
Shape the mixture in to six patties, each about 8cm (3in) wide and 2cm (¾in) thick. The uncooked fish cakes can be prepared up to this point in advance and either frozen or kept in the fridge for up to 24 hours.
To cook, pour the remaining 2 tablespoons of olive oil into a large frying pan on a medium heat and add the butter. When the butter has melted and starts to foam, add the fish cakes and fry for 3–5 minutes on each side or until golden brown and crispy. Serve with a green salad, lemon wedges and a dollop of tartare sauce or mayonnaise.
---
Rachel Allen's Smoked mackerel, apple and fennel salad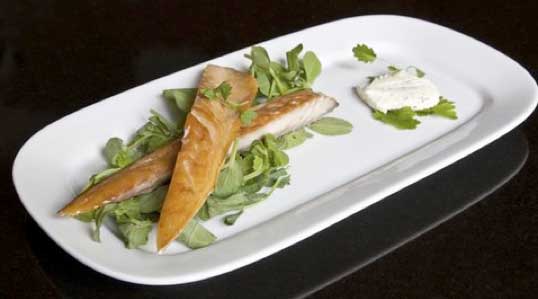 The wonderful flavours in this are hard to beat -salty fish, anise flavoured fennel and sweet, crunchy apple
INGREDIENTS
2 fennel bulbs, trimmed and cut lengthways into 3–4mm (1/8") thick slices
2 apples (unpeeled), quartered, cored and cut into wedges 5mm (¼in) thick
4 smoked mackerel fillets, skin removed and flesh torn into bite-sized chunks
4 handfuls of salad leaves, such as rocket or lettuce
5 tblsp olive oil
2 tblsp lemon juice
salt and freshly ground black pepper
INSTRUCTIONS
Place all the ingredients in a serving bowl and gently toss together.
Season to taste with salt and pepper, and serve directly from the bowl or on individual plates.
---
Jamie Olivers Smoked Salmon Rolls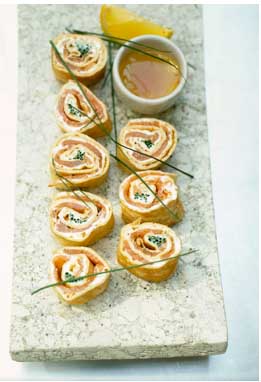 These are a kind of sushi-style take on a classic combination of smoked salmon and crème fraîche inside a pancake. You can make them up the day before, keep them in the fridge wrapped in cling film, then slice them up at the last minute. They look great if you serve them up-ended, like sushi-rolls, on a rectangular or square plate with the dip in a little bowl. You could use mustard mayo or even horseradish sauce instead of the vinaigrette dip if you like.
INGREDIENTS
2 large free-range eggs
120 g plain flour
180 ml milk
8 tablespoons olive oil
sea salt
freshly ground black pepper
butter, for frying
150 ml crème fraîche
1 small bunch fresh chives
200 g smoked salmon, fromsustainable sources, ask your fishmonger
2 tablespoons lemon juice
INSTRUCTIONS
Crack the eggs in a mixing bowl, then add the flour to the bowl so it sits in a pile to one side of the eggs. Gently start mixing the eggs with a whisk, then gradually whisk the flour in, little by little, until it's all incorporated. If it gets a bit thick, add some of the milk to loosen it up. Once all the flour is mixed in, add the rest of the milk, 2 tablespoons of oil and a good pinch of salt. Leave for at least an hour before using.
Heat a large non-stick frying pan and melt a knob of butter in it. Pour in a ladleful of batter, swirl the pan around, then pour any loose batter back into the bowl it came from. You should be left with a thin pancake stuck to the pan. Let it cook for a minute or so, flip it over for 30 seconds and then slide it out on to a plate. Repeat until all your batter is used. (It should make about five, so you could use the remainder for breakfast). Let the pancakes cool.
Make a rectangle of double thickness cling film about 40cm x 15cm and lay two pancakes on it side by side, slightly overlapping. Spread them with a thin layer of crème fraîche, lay most of the chives on top, season well with pepper and place a layer of smoked salmon over the top. Use the cling film on one of the long sides of the rectangle to roll the pancakes up tightly like a Swiss roll. Re-wrap in cling film and leave for at least half an hour in the fridge to firm up before slicing into inch lengths and serving with a dip made from the rest of the oil, the lemon juice and salt and pepper. Sprinkle with the remaining chives before serving.
Nutritional Information - Amount per serving:
Calories 81kcal
Carbs 3.3g
Sugar 0.4g
Fat 6.2g
Saturates 2.4g
Protein 2.9g
---
Smoked trout with watercress puree and chopped egg salad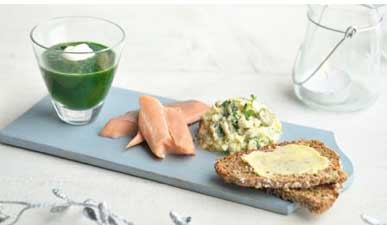 Smoked trout has a more delicate flavour than the ubiquitous smoked salmon, and with these accompaniments makes for a more special starter.The purée can be made the day before and chilled overnight, and the rest takes minutes to put together.
INGREDIENTS
140g/5oz watercress leaves, washed, roughly chopped
4 ice cubes
2 tbsp water
salt and freshly ground black pepper
3 free-range eggs, hard-boiled, peeled, chopped
1 punnet mustard cress
8-10 cornichons, drained, sliced
small handful chopped fresh dill
1½ tsp Dijon mustard
3 tbsp extra virgin olive oil, or rapeseed oil
½ lemon, juice only
TO SERVE
3 tsp soured cream, or crème fraîche
6 x 40g/1½oz pieces smoked trout fillet
6 thin slices toasted soda bread, buttered
½ lemon, cut into 6 wedges, to serve
INSTRUCTIONS
For the watercress purée, bring a saucepan of salted water up to a rolling boil, then add the watercress and cover the pan with a lid. Once the water has returned to the boil, drain the watercress well, then refresh under cold water.
Blend the drained watercress in a food processor with four ice cubes and two tablespoons of water. Turn the motor off and scrape a spatula down the insides of the food processor at intervals, then blend again, until the mixture forms a smooth purée. Season, to taste, with salt and freshly ground black pepper.
Mix the chopped boiled eggs, mustard cress, cornichons and dill in a bowl until well combined.
In a separate bowl, whisk together the mustard, oil and lemon juice and season, to taste, with salt and freshly ground black pepper. Then, pour over the egg mixture and stir well to combine.
To serve, spoon the watercress purée into espresso cups or shot glasses. Drizzle half a teaspoon of soured cream or crème fraîche onto the surface of each serving, then place the cups or glasses onto six serving plates. Divide the egg salad, smoked trout and soda bread equally among the plates. Garnish each plate with a lemon wedge.